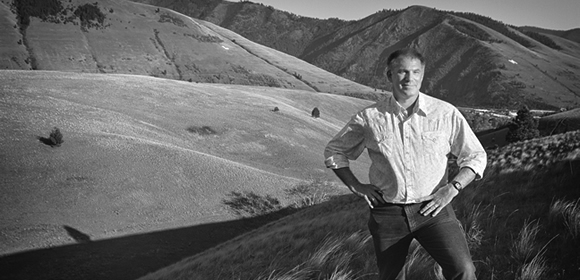 DOUG AMMONS
a DARKNESS lit by HEROES
If you look east from the top of the Butte Hill, the Granite Mountain headframe stands tall and strong, captured in time. During its heyday, it was the biggest of all the mines across the Hill. More than a thousand men worked there, three shifts a day, six days a week.
In 1917, you would have seen trains pulling across the spurs to each mine, heard ore crashing into the cars, hammering from the blacksmith and carpenter shops. The timber slide would have been below you where a thousand logs rolled down to the hungry saws.
Streams of men would pour past at shift change and gather below the headframe, some coming up and others going down, to drill, blast, and shovel rock in the box.
Butte was a tough city with the richest, most dangerous mines in the world, a monument to the rushing change from steam to electricity in a new Century. The city was a powerhouse of can-do optimism, jobs for thousands of immigrants from 40 countries, showcasing the hard work and determination that built our United States.
A Darkness Lit by Heroes is the tale of the biggest hard rock mining accident in America. The book is based on 600 pages of eye-witness testimony that was lost for 90 years, and the story is carefully anchored into the historical facts. It is written as a novel from inside the miners' experience with extensive use of the testimony, and puts readers directly into the working mine as a normal shift spiraled out of control.
168 men died, 240 lived.
This is not a mining account, but a story about the human spirit. It is about what we are, and what we can be. It shows that no matter what the odds, no matter how hopeless it seems, people will rise up and do what is needed. Even when everything that sustains us is gone, the water, the light, and even the air we need to breath, the greatest darkness will still be lit by heroes.
"Ammons is one of the top ten game-changers in adventure since 1900. What Reinhold Messner did for alpinism, Ammons did for kayaking."
"Doug Ammons has crafted a classic meditation on adventure: Whitewater Philosophy is one of the top five all-time best outdoor adventure books."
"The Laugh of the Water Nymph is a wonderful book. The story Alive was amazing and worth a movie by itself."
"Doug is not only a legend among whitewater kayakers, he's a poet, scientist, philosopher, and wonderful classical guitarist. He'll show you how to ferry across a river without taking a single stroke, and then he'll say, 'canoeing is an active meditation on the beauty of fluid motion'. You nod sagely and paddle harder."
Photo permissions:
In the slide show: World Museum of Mining, Charlie Munsey, Robin Carlton, Grant Amaral